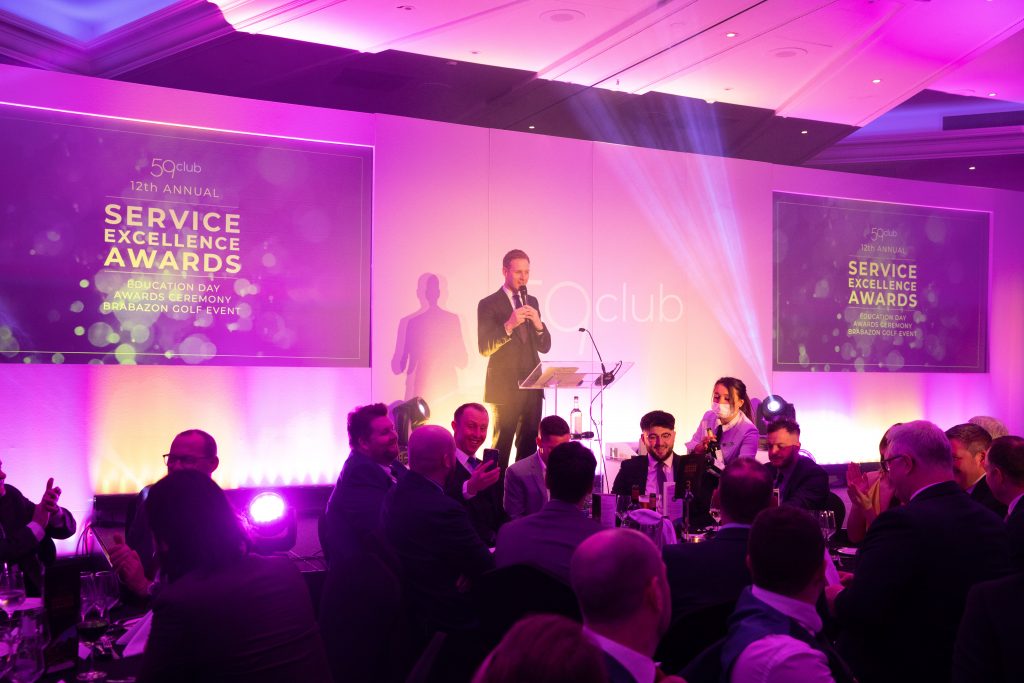 A welcome return to a "Live Event", saw the very best Venues, Teams and Individuals from across the UK, Ireland and Europe South assemble at The Belfry Hotel and Resort on March 3rd 2022, ahead of 59club's annual Service Excellence Awards.
The day began with a full day's education provided by Gregg Patterson of Tribal Magic, and Lora Cavan, having flown in from the US and Canada respectively. And as night fell, aspirations of being recognised with a 59club Service Excellence Award grew, as the curtains opened on the ceremony that has long been regarded as the 'Oscars' of the golf & hospitality Industry, since the 59club's honours list began some 12 years ago.
The 2-day event, a long-standing fixture within the golf business recognises the finest customer service providers for having achieved the highest standards of excellence in 2021. 59club's illustrious accolades are determined by scores collected from their impartial mystery shopping audits, which evaluate the experience afforded to visiting golfers and prospective members, in accordance with 59club's objective benchmarking criteria.
On the night, 59club presented awards across 29 categories, recognising 'service excellence' spanning all areas of the businesses – sales, service, operations, retail, spa, golf course, food & beverage and management. With 59club continuing to reflect the very best performances, regardless of a venue's size, scale or profile, by segmenting several individual accolades in to 3 categories based on a venue's average green fee rate.
Portmarnock Golf Club and Gleneagles collected the highly prized awards of Ultimate Golf Members' Club and Ultimate Resort. Portmarnock achieving success in their first year of working with 59club, with Gleneagles recapturing the title they last won in 2018.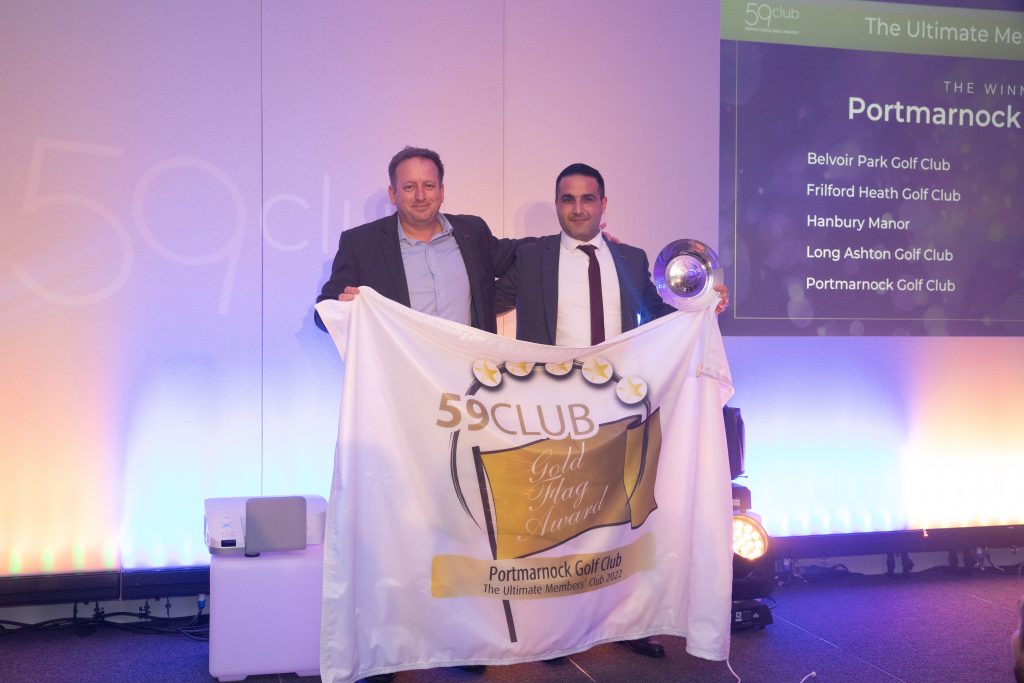 Andrew Whitelaw, General Manager of Portmarnock Golf Club, said; "I am absolutely delighted that the team have won the Ultimate Members Club Experience through their hard work and dedication to service excellence, truly one of the toughest awards to win it is recognition on how hard the team have worked. It really was a team effort in every department, which it has to be with 59club. To win an award that recognises our commitment to our members is extremely satisfying and motivating. After a couple of challenging years when the club operated in unusual circumstances the teams ability to change and deliver a world class experience was wonderful to be part of."
Of their success Andrew Jowett, PGA Head of Golf of Gleneagles said; "This award underlines an incredible team effort, not just in golf, but across every facet of our 850-acre estate. It is an important accolade because it recognises world-class customer service and experience, something we strive for every day at Gleneagles.
"The fact this award comes as a direct result of authentic, independent and benchmarked visitor feedback, underlines its importance and value to us as a leading hospitality and leisure business."
The Awards was a great showcase for The Mere Golf Resort and Spa, after they claimed 5 of the 6 available Sales Awards, their success included a magnificent performance from Alice Cox-Cooper, adding a further 2 individual titles to their awards cabinet as well as having led her Membership Team to success in both the Golf and Leisure categories. The Mere also celebrated Max Cornes, after he scooped one of the Golf Event Sales Awards, and the venue went on to secure their first ever Gold Flag Designation.
Of their achievements, Gary Johnson, General Manager of The Mere, commented; "These awards are paramount to the continuing success of our business!
"It has been our strategic plan to focus on all of our service standards and procedures to ensure we are always aiming for excellence!
"59club and Matt have proven that with a proven formula and competitor set analysis drilled down and determination the goals can be achieved and the team at The Mere Golf Resort and Spa make me a very happy and proud leader!
"Finally…That gold flag was always in our cross hairs and it is sat on full display on our trophy wall."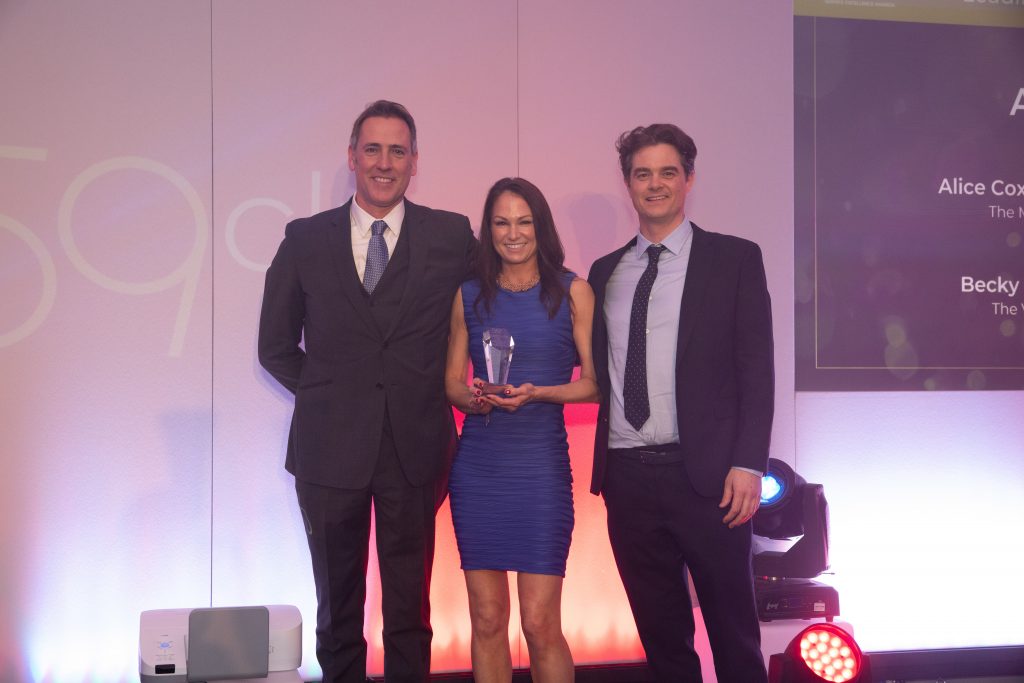 For other venues there were double celebrations on the night, firstly The Grove saw Phil Chiverton and Brad Gould retain their Greenkeeper and Golf Manager of the Year titles. Next it was Foxhills Club and Resort, who were left reveling after Sean Graham and his Golf Operations Team picked up Awards, and finally, Worsley Park Marriott Hotel and Country Club enjoyed 2 victories with an individual win for Stephen Hindle and a team accolade for his Golf Operations team.
Special recognition must go to Glenn McNaughton of Long Ashton Golf Club after being named F&B Manager of the Year for the 3rd consecutive year, while Matt Aplin of Goring and Streatley Golf Club fended off tough competition to be named Greenkeeper of the Year for an unbelievable 4th year in a row, leaving everyone questioning – can he make it 5?!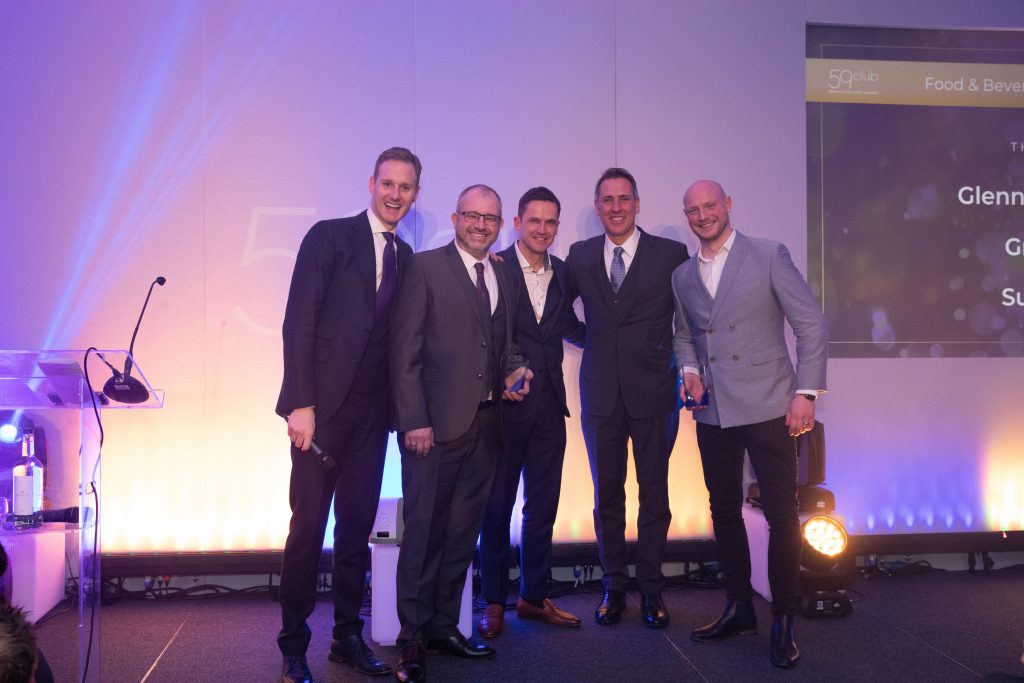 Of this year's awards, Will Hewitt, General Manager of 59club UK, commented; "It was an honour to recognise and celebrate our leading service providers in person once again, and while the past year presented huge challenges for the golf industry, relating to both the operation and the people within those businesses, that only added to the splendour, it was incredible feeling seeing all those familiar faces and many newcomers united by their shared passion for delivering the very best customer experiences, the excitement in the room was electric!
"Golf has been incredibly fortunate to benefit from a significant surge in demand, and it is extremely encouraging that more venues than ever before are choosing to work with 59club to focus on their service offering and sales levels whilst working to engage and keep this new audience. 59club's focus will remain the provision of objective and accurate performance data, providing greater market insights and a supportive network of likeminded professionals which will further aide performance enhancement."
Celebrations continued into the night, as 59club's Industry Benchmark of excellence, it's Gold, Silver and Bronze Flag Designations, were announced. These highly prized accolades recognise member clubs' and resorts that provide excellent facilities for golfers to enjoy, as well as having achieved the required standard of customer service throughout 2021.
This year, 59club presented 18 'Gold Flags'. The deserving winners were: Celtic Manor Resort, Foxhills, Gleneagles, Long Ashton, Portmarnock, JCB, Royal Dornoch, Hanbury Manor, Gullane, Panmure, Edgbaston, Belvoir Park, Frilford Heath, The Mere, Mount Juliet Estate, Rockliffe Hall, The Belfry Hotel & Resort and The Grove.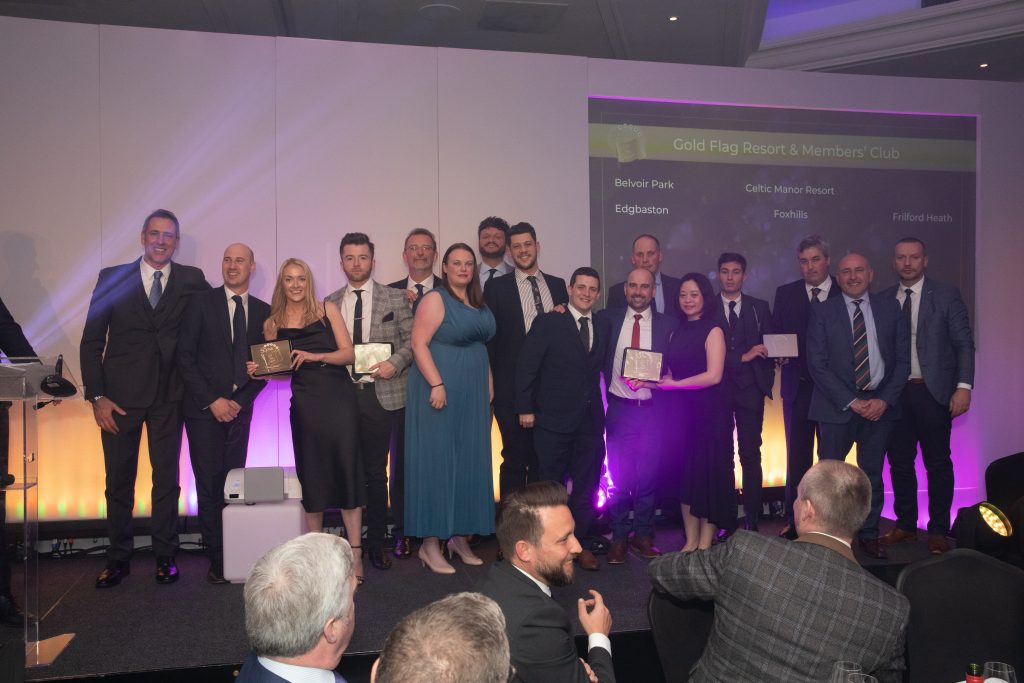 8 'Silver Flags' went to Forest of Arden, Harpenden, Burnham & Berrow, Branston Golf & Country Club, Whittington Heath, North Foreland, West Herts and Radyr Golf Club.
And a further 8 'Bronze Flag' Awards were presented to Worsley Park, The Vale Resort, Ladybank, Dunbar, Royal Winchester, Conwy, Woodsome Hall and Farleigh Golf Clubs.
The following morning all attention turned to the 59club Golf Day which played out on the world famous Brabazon Course, the winning team made up of David Griffin (Celtic Manor Resort), Callum Nicoll (Rockliffe Hall), Jake Rhodes (Golf Genius) and David Kinsey (BRK) claimed the illustrious 59club Claret Jug, with James Sibbles from Golf Genius claiming the individual title which brought the 12th annual Service Excellence Awards Event to a perfect end, leaving all attendees reinvigorated and focused for the year ahead, and many with heightened hopes of securing their own victories next year.
Full list of award winners can be seen in the table below.
59club 'Service Excellence' Award Winners 2021/22:
The Ultimate Members' Club: Portmarnock Golf Club
The Ultimate Golf Resort: Gleneagles
Gold Flag Designations: Belvoir Park Golf Club, Celtic Manor Resort, Edgbaston Golf Club, Foxhills Club & Resort, Frilford Heath Golf Club, Gleneagles, Gullane Golf Club, Hanbury Manor Marriott Hotel & Country Club, JCB Golf & Country Club, Long Ashton Golf Club, Mount Juliet Estate, Panmure Golf Club, Portmarnock Golf Club, Rockliffe Hall, Royal Dornoch Golf Club, The Belfry Hotel & Resort, The Grove and The Mere Golf Resort & Spa.
Silver Flag Designations: Branston Golf & Country Club, Burnham & Berrow Golf Club, Forest of Arden Marriott Hotel & Country Club, Harpenden Golf Club, North Foreland Golf Club, Radyr Golf Club, West Herts Golf Club & Whittington Heath Golf Club.
Bronze Flag Designations: Conwy Golf Club, Dunbar Golf Club, Farleigh Golf Club, Ladybank Golf Club, Royal Winchester Golf Club, The Vale Resort, Woodsome Hall Golf Club & Worsley Park Marriott Hotel & Country Club.
My59 Ultimate Service Excellence Award: Long Ashton Golf Club & St Austell Golf Club.
My59 Service Excellence Award: Ashford Manor Golf Club, Farleigh Golf Club, Foxhills Club & Resort, Henbury Golf Club, Langdon Hills Golf Club, Radyr Golf Club & Stoke by Nayland Golf Club.
Golf Manager of the Year: Brad Gould (The Grove), Sean Graham (Foxhills) & Stephen Hindle (Worsley Park)
Greenkeeper of the Year: Andrew Smith (West Herts), Matt Aplin (Goring & Streatley) & Phil Chiverton (The Grove)
Food and Beverage Manager of the Year: Glenn McNaughton (Long Ashton), Greg Smith (Edgbaston) & Susan Robb (Royal Dornoch)
Golf Retail Manager of the Year: David Coles (Harpenden), Tom Hughes (The Belfry) & The Retail Team (Crane Valley)
Golf Operations Team of the Year: Foxhills Club & Resort, JCB Golf & Country Club & Worsley Park Marriott Hotel & Country Club
Leading Individual Group Golf Sales Performance: Joel Westwell (The Grove)
Leading Individual Corporate Golf Day Sales Performance: Max Cornes (The Mere)
Leading Individual Golf Membership Sales Performance: Alice Cox-Cooper (The Mere)
Golf Membership Sales Team of the Year: The Mere Golf Resort & Spa
Leading Spa Experience Performance: Rockliffe Hall
Leading Individual Leisure Membership Sales Performance: Alice Cox-Cooper (The Mere)
Leisure Membership Sales Team of the Year: The Mere Golf Resort & Spa